Welcome to the Trinity Wellness Secure Client Area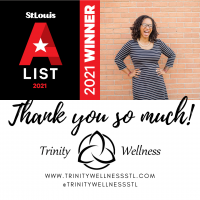 **You can not have a session around other people or while driving. Your session will be considered a late cancel if you are driving or not alone**

Counselor contact numbers (call or text): Karen (314) 400-8211, Sam (314) 827-4030, Alicia (314) 828-1823

At Trinity Wellness, LLC, our mission is to help clients realize and manage the power they hold within themselves. We strive to help clients manage their mental, physical, and spiritual lives so they may live the full and balanced life they desire. We accomplish this mission by providing counseling, wellness coaching, and an array of comprehensive wellness services customized for each individual. Our clients are not given advice to follow, they are empowered and educated to become happy, healthy, and successful individuals.​

ALL SESSIONS ARE ONLINE ONLY UNTIL YOU RECEIVE NOTICE FROM YOUR COUNSELOR!
Log in to the secure portal. If you have not received an email with a username, please Register.